Post by Vaulcul on Jun 24, 2020 1:05:57 GMT
This guide confirmed working with PPRO 2.2.0
To preface this walk through, one of the great things about Platformer Pro is its flexibility, allowing you to build levels all sorts of ways. Below is a general basic method I've found that works for making adventure style platformers like Symphony of the Night, Faxanadu, and Metroid. It may not be right for what you're doing, but it will work, and probably work the best with the aforementioned type of game.
This is something I struggled with and I hope it helps others quickly setup respawn points to allow for traversing back and forth through interconnected scenes. This guide won't get into any other specifics other than setting up respawn points for high traversal levels... Though, it will touch on a few other topics, because they are foundational to setting up these respawn points and in some cases PPRO in general.
Quick Summary:
-Game Manager - Required
-Level Manager - Required
-Persistence - RESET_ON_SCENE_EXIT turned off
-Placing Game/Level Managers in prefabs - Required for persistence to function properly
-Trigger order should be "Level/Set Active Respawn" load on top, "Level/Load Scene" below.
-Respect other asset Hierarchies... Understand that you may get bad results if mixing game objects with specific needs or behaviors... This has the ability to break spawn points between scenes (or other weird stuff).
Detailed Explanation:
Game Manager
When first setting up a scene with PPRO, make sure to have both a Game Manager and a Level Manager in them. It's best to keep them together in some fashion and then turn them into a prefab once you're happy with the settings in them. To add some punch to this statement, here's a quote from Johnny on turning the Managers into a prefab:
You should ALWAYS use a prefab for the manager objects. This is particularly important for sprite/item dictionaries as they MUST be stored in prefabs.
Level Manager

While most of the settings here are not horribly important for this setup, the existence of it in your Game Manager is. Most of the persistence data utilizes this script.
Persistence
The very first thing you want to do with your Game Manager is make sure your persistence settings are correctly set to allow for level traversal/backtracking:
In the picture above, it's not so important of what is checked/turned on as what is not. To note, the "RESET_ON_SCENE_EXIT" is off. This MUST be off for scene traversal/backtracking to work, otherwise PPRO will never remember the respawn point you are hoping to load in the next scene.
Respawn Points to Enter
Below is a picture of a respawn point script in a Game Object: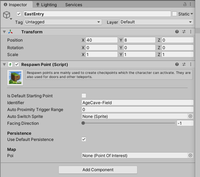 The major setting here is the "Identifier", you can name this whatever you want... I personally use the following nomenclature: <Name of this scene>-<Name of scene you are coming from>. Regardless it's important to set as you WILL be referring back to it in the adjacent scene that a character will travel from.
The center of the location that this game object is set to will be where your character respawns at.
Triggers to Exit
As in any other scene you can setup any type of trigger (proximity, one-way, Unity wrapper) to load a scene.
Below is a picture of this with fairly basic settings:
The event responder is where the magic happens here.
Things to note:
The "Component" is set to type of trigger that will be used, in this case, a "ProximityTrigger". If it's set to "EventResponder" or "Transform" nothing will happen when your character touches it. Make sure this is set correctly.
You will want to add two actions IN THIS ORDER (as seen in the picture):
Level/Set Active Respawn
Level/Load Scene
The reason for this order is the order of execution. The event responder loads actions from top to bottom.
Place the name of the scene to be loaded in the "Level/Load Scene" Scene Name field
Place the name of the respawn point, located in the scene that's being loaded, in the "Level/Set Active Respawn" Respawn Point Name field
Final Points
If you have other assets in your scene that are manager type assets, be aware of how they function. Fore example, some assets, like Rewired, utilize Do Not Destroy on Load, if bundled within the same game object as the PPRO Game Manager or Level Manager, it will only cause you headaches as the Game and Level Managers won't load their settings correctly.
Finally, make sure all of your scenes that you want to utilize this feature with are all part of the build settings (File > Build Settings...)
And... That's what I got. I hope I've included enough clear detail here for others to get this to work for them properly and quickly.